W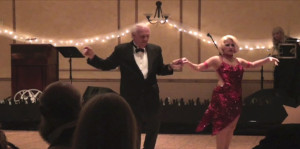 HAT DANCES DO I TEACH?
I teach American Ballroom beginning and intermediate levels including:
Waltz • Foxtrot • Tango • Viennese Waltz • Quick Step • Cha-Cha • Rumba • East Coast Swing • Bolero (beginning) • Mambo
and common social dances like…
West Coast Swing • Argentine Tango • Salsa • Lindy-hop • Merengue • Nite Club 2-Step • Disco Hustle • Country 2-Step • Country Line Dance
Baby and Me: (6 months –2 years and parent or care giver)
A class that fosters interactive play/exercise with baby and parent. Parent gets a workout… baby gets to work on mastering new skills like standing, bouncing, crawling. Everyone has fun! Mat work and standing. The exercises are dance based and easy to do. Various music styles are used to stimulate baby but not irritate parents. There is also time for parents to share what's working and what's not with one another. As a mother of four children, I know this part is very important.
Creative Dance for Preschoolers: (2-4 years)
Exploring music, movement, motor skills and imagination! All the music is composed especially for kids or is kid friendly. Based on the Leap and Learn Program this class integrates learning and dance. I use LOTS of imaginary ideas to get the kids through their warm up and dance movements. The dance styles incorporated include ballet, jazz, modern and kids social dances! We count, use the alphabet, learn colors and shapes, act out emotions in dance, play musical instruments, and much more. This class develops major motor skills, brain development, musicality, manners, creative thinking and expression.
Pre-Ballet: (5-7 years)
A really fun first ballet experience! Some warn up material will be familiar if the child took the Creative Dance class but we'll concentrate on ballet material with fun and creative imagery. We roll out imaginary pizza dough and pretend to be mermaids in warm up then move on to be ballet dancers on stage. The students learn ballet steps, manners, major motor skills, stage directions, how to count music, clap in rhythm, show emotions and tell stories through ballet. An end of year performance is an option.
Ballroom/Social Dance: (1st-6th grades, 7th & 8th, High School, and Adult) *classes may have to be combined due to interest. Students learn dance floor etiquette, posture, frame, steps, technique, and how to lead and follow. Leaders learn how to navigate on the dance floor. Followers learn to trust. Everyone gains confidence, coordination, balance, better posture, a stress outlet, a cardio workout, healthy brain stimulation and a fun way to socialize.
Dance Fitness: (ages 13+) This class is a full body workout which includes exercises used by college dance programs and professional dance companies. It is designed to help you build long strong muscles and endurance. Dance fitness = life fitness!
Not finding what you want? Reach out directly through our Contact Us page.